Disclaimer: All data presented in this report is accurate as of October 25, 2023. Please note that numbers may have changed slightly since that date.
Executive Summary
In line with our commitment to transparency and decentralization, the Moonbeam Treasury Program has now been active for nearly one year. This report provides an essential overview of the program's accomplishments and progress during this time.
Overview
The Moonbeam Treasury Program was officially initiated following community approval on 19th October 2022, marking a pivotal step towards fostering a transparent and decentralized ecosystem. Since its inception, the Moonbeam Treasury Program has seen substantial activity, with 24 applications submitted on the Forum. Out of these, funds were awarded to 20 applicants, amounting to a total of 1,173,196 GLMR and 20,886 MOVR. This equates to an approval rate of 83.3%.
The Moonriver Treasury experienced significant activity, with a total expenditure of $159,000, with the most significant outflow of funds taking place in the first quarter of 2023. The displayed USD values are reflecting the token price at the time of the proposal submission. It's worth noting that as the Treasury Council was newly established at that time, the 80%/20% treasury rule was not yet in use.
Spending per Quarter
| Quarter | Spent in MOVR | Spent in USD |
| --- | --- | --- |
| Q1 2023 | 8,065 | $82,722 |
| Q2 2023 | 4,326 | $37,893 |
| Q3 2023 | 3,869 | $21,345 |
| Q4 2023 | 4,626 | $17,903 |
| Total | 20,886 | $159,863 |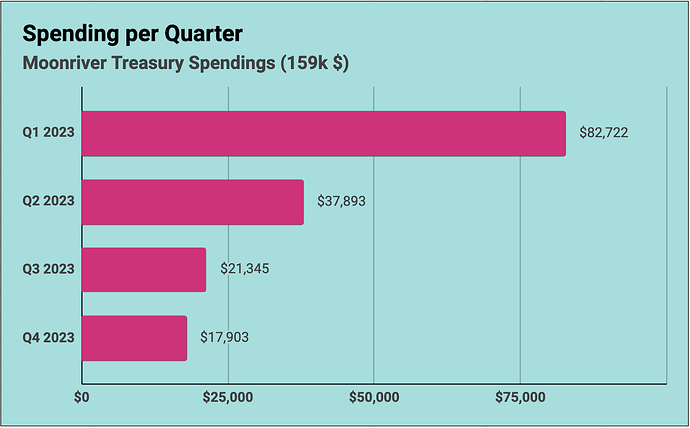 The funded proposals within the Moonriver Treasury can be categorized into three main areas: tooling, wallet development, and RPC infrastructure. While RPC infrastructure is undeniably the backbone of the blockchain, it is evident that the fund allocation in this category exceeded expectations.
Spending per Category
| Category | Spent in MOVR | Spent in USD |
| --- | --- | --- |
| RPC Services | 15,485 | $108,423 |
| Wallet | 2,848 | $24,480 |
| Tooling & Dashboards | 2,553 | $26,960 |
| Total | 20,886 | $159,863 |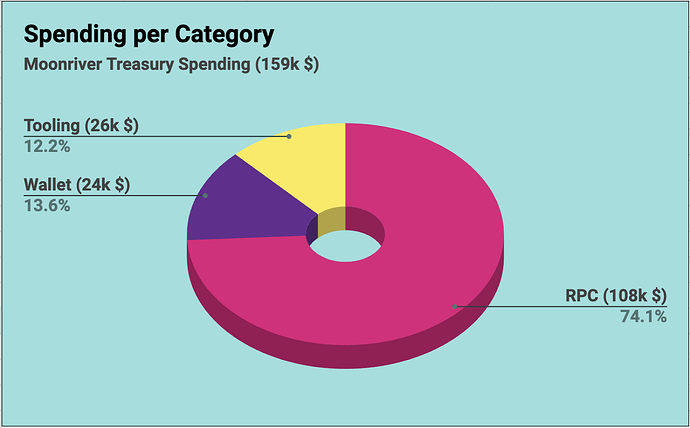 The Moonbeam Treasury, on the other hand, has spent a total of $353,000 since the inception of the Treasury Council.
Spending per Quarter
| Quarter | Spent in GLMR | Spent in USD |
| --- | --- | --- |
| Q4 2022 | 127,363 | $61,440 |
| Q1 2023 | 55,154 | $20,479 |
| Q2 2023 | 340,420 | $137,083 |
| Q3 2023 | 177,447 | $44,723 |
| Q4 2023 | 472,811 | $89,862 |
| Total | 1,173,196 | $353,588 |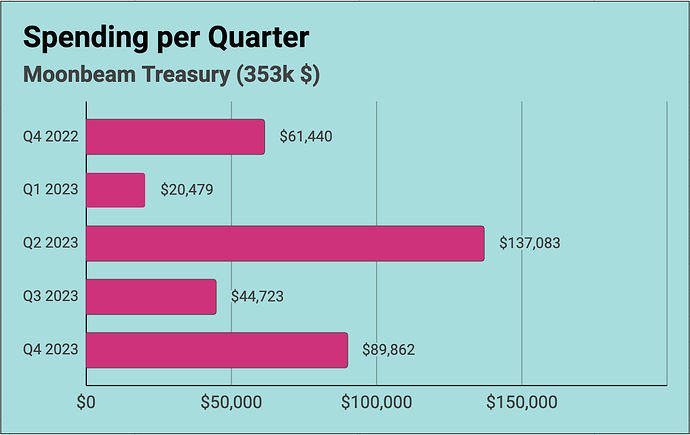 The cost breakdown across categories in the Moonbeam Treasury provides insights similar to those observed in the Moonriver Treasury.
Spending per Category
| Category | Spent in GLMR | Spent in USD |
| --- | --- | --- |
| RPC Services | 701,406 | $175,198 |
| Wallet | 257,246 | $97,920 |
| Tooling & Dashboards | 214,545 | $80,470 |
| Total | 1,173,196 | $353,588 |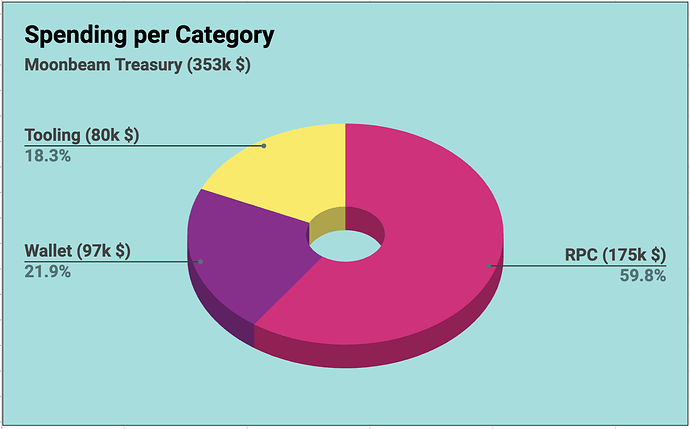 In light of our findings regarding the disproportionate allocation to RPC providers, the Treasury Council has undertaken a thorough review and formulated a new policy to govern the approval of funding for RPC providers, with the goal of ensuring that the allocation of resources aligns with our broader goals for the Moonbeam ecosystem. This policy will be detailed in a separate section of this report.
Project Diversity
The funds awarded encompass a wide range of initiatives. 14 projects were awarded retroactively for their contributions to the Moonbeam and Moonriver ecosystems, which include notable efforts such as Polkassembly and key RPC providers, among others. On the other hand, 6 projects received upfront funding for their proposed initiatives such as Nova Wallet, Stake GLMR/Stake MOVR, and RPC providers (since the new RPC providers' policy was implemented by the Treasury Council). Among other categories, applicants providing common good infrastructure such as multisig safe, NFT tracker, and hackathon prizes were also awarded.
Resource Allocation
The Moonbeam Treasury Program is committed to maintaining equitable resource allocation for the sustainability of our treasuries. Consequently, the vast majority of proposals adhere to an 80% GLMR and 20% MOVR ratio. This prudent allocation ensures the long-term viability of both treasuries and provides fair support to the projects within the Moonbeam ecosystem. In specific instances where applicants exclusively provided benefits or infrastructure to a single network, proposals fully denominated in either GLMR or MOVR were also considered and approved by the Treasury Council.
Expense Breakdown
Our current resource allocation strategy places a focus on supporting the vital role of RPC providers in advancing the development and performance of the Moonbeam ecosystem. These providers are instrumental in ensuring the seamless operation of our network and are the cornerstone of our success.
Additionally, a portion of the allocated funds is earmarked for initiatives that serve the common good. This allocation reaffirms our unwavering commitment to projects that are community-driven and benefit the broader ecosystem.
The Treasury Council has laid out a semi-annual budget of 625,000 GLMR and 6,250 MOVR from the respective treasuries to sustain our ongoing efforts. Furthermore, we supplement this budget with monthly contributions from the Orbiter program, enhancing our capacity to support key initiatives. Moreover, the unutilized budget from the previous quarter is rolled over to the following period.
The Moonbeam and Moonriver Treasuries were each pre-funded at launch with 0.5% of the token supplies and have since been accumulating GLMR and MOVR from an approximate 20% portion of transaction fees, respectively.
From the genesis balance of 5,000,000 GLMR and 50,000 MOVR, the respective treasuries currently hold balances of 4,414,225 GLMR and 59,795 MOVR. These figures represent a net expenditure of 585,775 GLMR and -9,795 MOVR.
To sum up, the Treasury Council's commitment to the long-term success of the program is evident through our conscientious budget management. We have consistently kept our expenditure well below budget while still funding key contributors to the ecosystem, and even accumulating MOVR, reflecting our dedication to the sustainable growth of the Moonbeam ecosystem.
New Funding Policy for RPC Providers
The prior retroactive award policy favored larger RPC providers, leading to a duopoly and increased expenses. In response, the Treasury Council initiated internal discussions and arrived at a comprehensive solution. The updated policy limits RPC provider expenses to 35% of the budget for each designated period. Additionally, a public call for proposals was launched, encouraging applicants to consider current market conditions when submitting proposals for Q3 and Q4 2023.
In response to this call, four teams — UnitedBloc, OnFinality, Bware Labs, and Dwellir — stepped forward with their proposals. The Treasury Council then initiated a rigorous evaluation to determine which teams were best suited to receive funding. Following a rigorous evaluation process, the Treasury Council collectively selected UnitedBlock and Bware Labs as the RPC providers for the Q4 2023 and Q1 2024 periods. To learn more about the selection criteria read here.
To accommodate this change, the funding model for RPC providers was shifted to an upfront model with an agreed-upon fee that significantly reduced costs compared to the previous arrangement. In light of this transition, an exception was made to cover the costs associated with Q1 2024, resulting in excess budget expenses for the current period. However, it was determined that these expenses would be deducted from the next period's budget.
We believe that the new RPC funding policy successfully achieved its objectives by reducing expenses, involving the community in the decision-making process, and enabling the Treasury Council to select providers that best align with the network's long-term stability and the Treasury's sustainability.
The Moonbeam Treasury Council remains steadfast in its dedication to the core principles of transparency and efficiency that underpin the Moonbeam Treasury Program. We value the input and feedback from our community as it significantly influences the future trajectory of the program.
To join the conversation, share your valuable suggestions, or seek clarifications, please do not hesitate to reach out to one of the Treasury Council members or participate in discussions on the forum.