Mingling in the diverse web3 sphere, Moonbeam stands as a notable example of a varied, vibrant and global community. There exists a Code of Conduct, accessible on GitHub GitHub - moonbeam-foundation/code-of-conduct , that stipulates agreeable and disagreeable behaviours. It mandates decorum such as the adoption of friendly language and a focus on communal well-being, while eschewing derogatory remarks and inappropriate actions, be they personal or political.
Over time, it appears that the enforcement of this Code of Conduct has not been at the forefront. This is likely be due to the lack of any notably flagrant or prolonged misconduct within the community. Regrettably, this leniency has recently been exploited. The ensuing text aims to delineate, substantiated by evidence, how a community member by the alias 'LordGLMR' has repeatedly disregarded this important code.
On a sombre note, it gives me no pleasure to bring this matter to this point.
Numerous individuals within the community are likely aware of LordGLMR's former contributions as a steadfast leader and supporter. This history is probably why he has been granted a certain leeway. Unfortunately, this accumulated goodwill seems to have been exhausted, as his breaches of the community standards persist.
By publishing this account, the aim is to spur a constructive conversation among community members regarding any appropriate next steps. Additionally, it is hoped that LordGLMR will make a genuine effort to correct his course, demonstrated through ongoing positive actions.
Evidently, I have chosen to remain anonymous in crafting this document. The reason for this anonymity is to nullify LordGLMR's tendency to use intimidation and bullying as tactics against those who oppose him. This precaution helps to focus any response solely on the content of this exposition.
A point that must be clarified is that this is not an attack on the Take Flight Alpha group. LordGLMR was previously a leading figure in this group, but recent updates suggest a shift in leadership, thereby possibly severing any assumed endorsement of his statements. A clarification from someone in the Take Flight Alpha community would be most welcomed.
Making this narrative public serves as a reference for those who might find themselves on the receiving end of LordGLMR's objectionable actions in the future. This document may be cited in social media discussions, Telegram groups, and other platforms as a caution to newcomers that LordGLMR is not reflective of the broader community, which holds a Code of Conduct and voices concern over its infringement.
Lastly, evidence to support these claims is included, without any prioritisation, and encompasses activities over the last two months or so.
The following evidence is presented in no particular order, but spans back nearly two months.
This post was issued following a request from a community moderator asking LordGLMR to temper his remarks.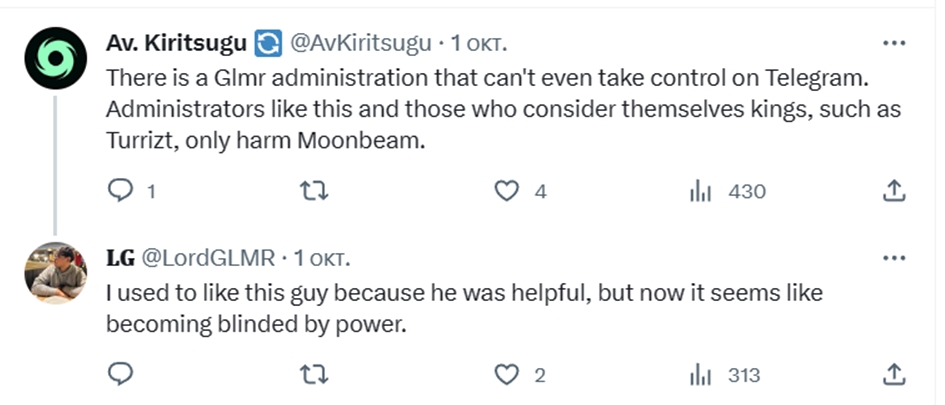 This communication asserts that a wallet funded by the foundation voted in opposition to the TFA proposal, a claim that was subsequently debunked.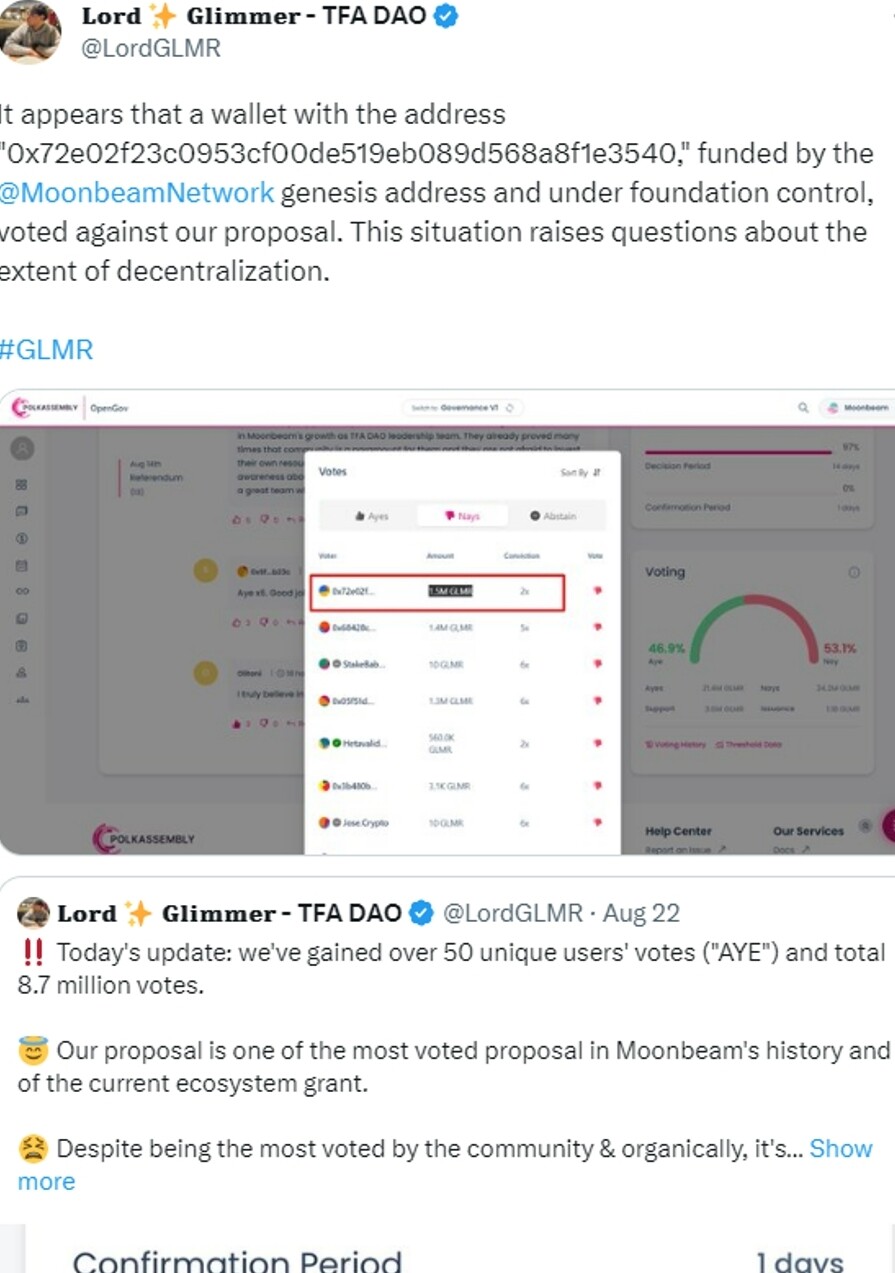 This entry suggests that the efforts to enhance network decentralization are in fact a guise for an exit scam.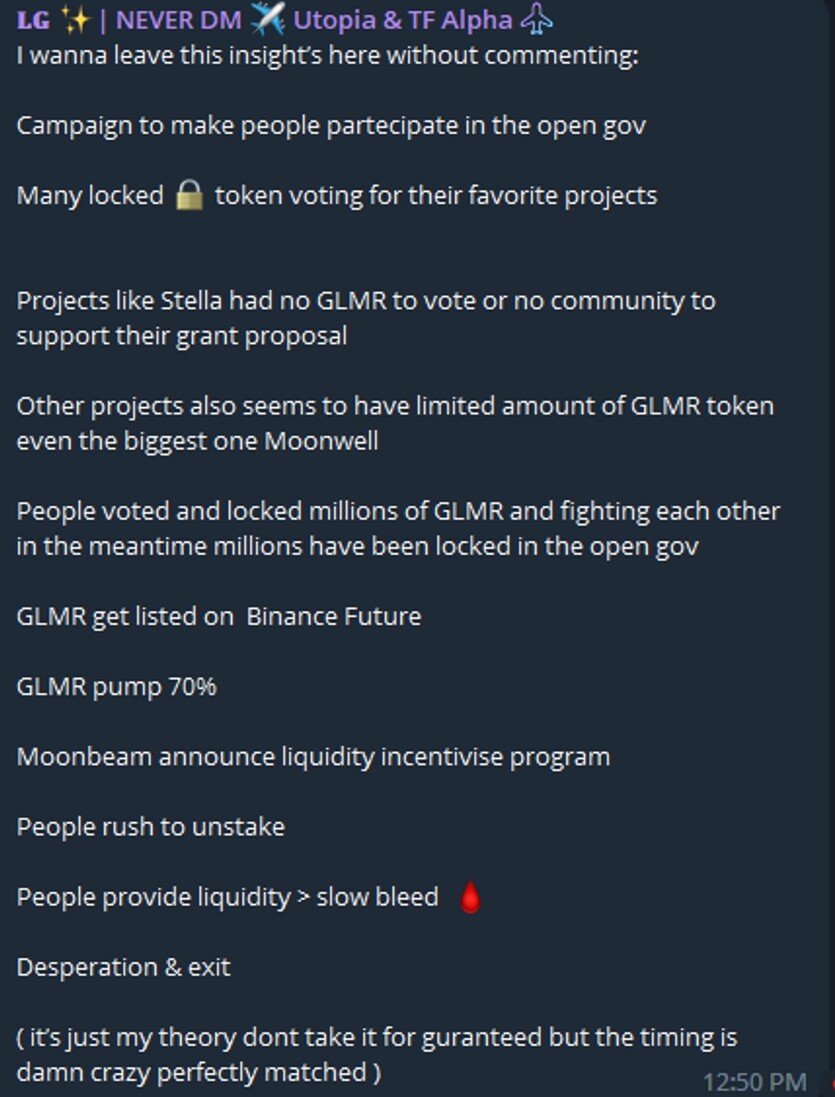 This post implies that Moonbeam is involved in token sales due to the proximity of its registered address to that of a third-party firm believed to be selling tokens. The shared location of their offices in Singapore is also hinted at being questionable…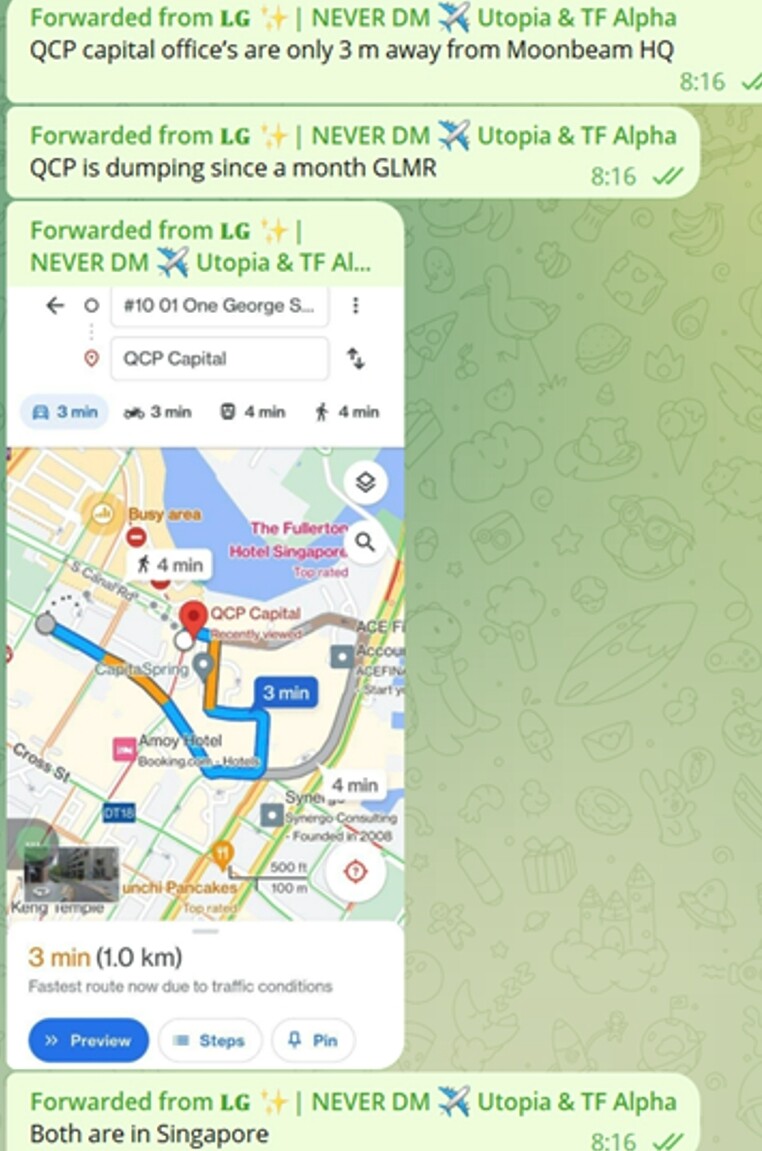 This entry alleges that the teams within the Moonbeam ecosystem are parasitic and contributing to Moonbeam's decline, particularly because they challenged him on his posts. It further claims that these teams lack integrity.
Because I am a new user to the forum I am limited to six links a a new user, the rest of the following evidence can be found here: Imgur: The magic of the Internet
This entry alleges that the teams within the Moonbeam ecosystem are parasitic and contributing to Moonbeam's decline, particularly because they challenged him on his posts. It further claims that these teams lack integrity.

A post that contains derogatory remarks aimed at another team within the Polkadot ecosystem and includes an emoji intended to demean that team.

A communication that asserts that Moonbeam is unstable and raises a red flag because a member of Moonbeam's developer relations team provided clarification on the ecosystem grants process.

A communication that asserts that Moonbeam is tainted with corruption.

A post that claims that Moonbeam financially compensates scammers.

An entry primarily concerning the repercussions of the posts made by LordGLMR, where he is discussed post, and a post by a user with a fish and heart symbol, that has previously directed attacks against members of the community in response to criticism of the grant proposal LordGLMR put forth.

A rude reply to a moderator from an unofficial Telegram group following a ban threat.

A claim that the ecosystem grant process is a sham and suggestion that the TFA group should manipulate votes due to their likely loss.

An entry that alleges that collators are trading a portion of grants for votes, without providing any substantiating evidence.

Expanding on the previous post, a message specifically naming a community collator, accusing himof participating in a scheme to exchange a share of the ecosystem grant for votes, without any supporting evidence.

An entry that contains multiple unsubstantiated allegations directed at Beamswap .

A post that implies that the foundation is facing difficulties and is tampering with the collator set.

A tweet, initially retweeted by LordGLMR and later deleted, was shared without prior verification or alerting the Moonwell team. In instances of potential hacking, the ethical course of action is to inform the team for investigation. It was later revealed that the loss of tokens experienced by the user in the original tweet was due to a compromise of their keys, unrelated to Moonwell.

A tweet claimed that The Great Escape game had security vulnerabilities, putting users at risk. The ethical approach for disclosing such issues is to first contact the concerned team. Despite LordGLMR often touting his connections within the ecosystem, the TGE team reported that he never reached out to them. Furthermore, no other teams in the ecosystem have confirmed that he contacted them about any vulnerabilities prior to tweeting about it.

A post that directs an attack against a member of the EvrLoot team.

A post that insinuates that fraudulent activities and manipulation are occurring within Moonbeam.

A post that suggests that corruption was involved in HydraDX's application for a treasury grant to fund the HydraDX Omnipool through non-custodial use of the treasury, despite the fact that the proposal was subject to an on-chain vote.

A post that alleges that a member of the Moonbeam Foundation and a community member collaborated to vote against the TFA proposal, a claim that has been debunked.

A post contends that the toxicity lies within the Moonbeam forum itself, serving as a concluding and fitting piece to the presented evidence.
In the light of the gathered evidence, one must ponder upon any next course of action. A prudent initial step would be to formally request LordGLMR's removal from official community communication platforms. Considering that unofficial communication channels, such as the Unofficial Telegram group, are linked by the official channels, it would only be proper to expect adherence to the community's Code of Conduct within these informal spaces as well. Alternatively, championing unofficial channels that do maintain proper decorum and rules would be quite justified.
Whilst there exist certain platforms over which the community has little sway such as Twitter, this post can at the very least act as a counterweight to any prospective disparagements launched by LordGLMR on those mediums.
It's more than likely that the catalogue of community members adversely affected by LordGLMR's actions extends beyond this document. As such, I would strongly encourage teams and individuals who've found themselves at the receiving end of LordGLMR's less than savoury conduct or otherwise concerned to contribute their viewpoints on this matter and proffer suggestions for a constructive path ahead.
Let it not be misconstrued that I stand against the principle of free speech. Constructive criticism has its place and serves to nourish a robust and healthy community. However, what has transpired here clearly falls outside the bounds of such wholesome interaction. The notion of free speech should never be deployed as a shield for propagating unfounded allegations, intimidation, or other harmful tactics. Therefore, the invocation of 'free speech' in defence of such actions is, at best, a misunderstanding of the term's noble underpinnings.
While it is regrettable that we must discuss these instances of misconduct, let's also take a moment to appreciate the positive contributions from our diverse community. For every unfortunate instance, there are countless more that illuminate the path of collective progress. This is the essence of Moonbeam, a community that, at its core, rocks.